Hi, guys! I'm reborn from the ashes after 13 hours of sleep, haha! Thanks my new crazy routine, this post is severely late, as we are already in the half of June, but a girl can't always win, haha! Also, I like to leave lists here of the new releases of what I'd buy each month if I could 😀
Shall we see the selected books of June in my wishlist, shall we?
DAY 1
Defined By Deceit, by A.E. Via
He tried to drown his demons, only to find they could swim.

Life isn't always fair. Llewellyn Gardner knows that first hand. He was on the fast track—college dreams, a boyfriend—until one night of extreme passion changed everything. Eight years later and out of prison, he still lives with the aftershocks of that night. Everywhere he turns there's another reminder of the crime people insist he committed, so he runs away to a new town to start over.

For Shane Smith, Jr., owner of Smith Construction, there's something about the gorgeous, misunderstood man with the overly expressive eyes and dark past. Shane sees the good in Llewellyn— it's why he hired him—and he isn't going to let the man cut himself off from the world.

Llewellyn isn't sure what to think about Shane. After years of protecting himself from being tricked twice, he's worried. What will happen if Shane doesn't believe the truth about his past?
Read an excerpt here! And I already own my copy of this baby ❤
DAY 7
All the Feels, by Danika Stone
College freshman Liv is more than just a fangirl: The Starveil movies are her life… So, when her favorite character, Captain Matt Spartan, is killed off at the end of the last movie, Liv Just. Can't. Deal.

Tired of sitting in her room sobbing, Liv decides to launch an online campaign to bring her beloved hero back to life. With the help of her best friend, Xander, actor and steampunk cosplayer extraordinaire, she creates #SpartanSurvived, a campaign to ignite the fandom. But as her online life succeeds beyond her wildest dreams, Liv is forced to balance that with the pressures of school, her mother's disapproval, and her (mostly nonexistent and entirely traumatic) romantic life. A trip to DragonCon with Xander might be exactly what she needs to figure out what she really wants.
You can read a guest post with the author here! Also, the publisher was cool enough to gift all book bloggers selected for the book tour with a review copy, so you'll be seeing my review for this one anytime now!! ❤
The Harder He Falls (Kick #1), by Lynda Aicher
Expert whitewater-rafting guide Grady Kelley lives for that rush of adrenaline: at work, as the newest employee of a Portland-based outdoor-adventure sports company, and off the river, where liaisons with anonymous men keep him satisfied. Grady prefers no drama and no strings attached, but when tragedy strikes, fate leads him to Micah Swaine. He's hot, masculine, distracting—and offers the kind of deeper connection Grady has sworn off, no matter how badly he craves it.

Working at a leather bar, Micah meets a lot of guys, but Grady's different—and he seems to feel the same way. The trouble is, anything beyond casual sex is too risky for Micah. He's got secrets he doesn't know how to share, secrets that would make any relationship a battlefield. No man, even one as compassionate as Grady, would stick around for that kind of trouble. And yet, as physical desire melts the walls they've put up, Micah and Grady discover that trusting each other is the most exhilarating adventure of all.
The Marked Girl (Marked Girl #1), by Lindsey Klingele
Once upon a time, in a land far, far away (Los Angeles)…

When Cedric, crowned prince of Caelum, and his fellow royal friends (including his betrothed, Kat) find themselves stranded in modern-day L.A. via a magical portal and an evil traitor named Malquin, all they want to do is get home to Caelum—soon. Then they meet Liv, a filmmaker foster girl who just wants to get out of the system and on with her life. As she and Cedric bond, they'll discover that she's more connected to his world than they ever could've imagined…and that finding home is no easy task…
 The Sound of Us, by Julie Hammerle
Kiki Nichols might not survive music camp.

She's put her TV-loving, nerdy self aside for one summer to prove she's got what it takes: she can be cool enough to make friends, she can earn that music scholarship, and she can get into Krause University's music program.

Except camp has rigid conduct rules—which means her thrilling late-night jam session with the hot drummer can't happen again, even though they love all the same TV shows, and fifteen minutes making music with him meant more than every aria she's ever sung.

But when someone starts snitching on rule breakers and getting them kicked out, music camp turns into survival of the fittest. If Kiki's going to get that scholarship, her chance to make true friends—and her chance with the drummer guy—might cost her the future she wants more than anything.
Read an excerpt here! Also guaranteed my copy /o/
The Way to Game the Walk of Shame, by Jenn P. Nguyen
Taylor Simmons is screwed.

Things were hard enough when her single-minded dedication to her studies earned her the reputation of being an Ice Queen, but after getting drunk at a party and waking up next to bad boy surfer Evan McKinley, the entire school seems intent on tearing Taylor down with mockery and gossip.

Desperate to salvage her reputation, Taylor persuades Evan to pretend they're in a serious romantic relationship. After all, it's better to be the girl who tames the wild surfer than just another notch on his surfboard.
Review here!!
DAY 14
Escape from Asylum (Asylum 0.5), by Madeleine Roux*
Long before Dan, Abby, and Jordan ever walked the hallways of the Brookline asylum—back when it was still a psych ward and not a dorm—sixteen-year-old Rick Desmond was wrongfully committed, against his will.

In this prequel novel set many years before the events of Asylum, Rick finds himself trapped in the asylum at the height of the sinister warden Crawford's regime. As Rick learns more about the shocking treatments—and experiments—that are happening at Brookline, he realizes he needs to get out before he is "cured" forever. With the help of a sympathetic nurse, Rick must plan his escape from the inhumane hospital, and soon. Because either Rick is actually starting to go mad, or else the asylum is haunted by much more than dark memories…
The Gallery, by Laura Marx Fitzgerald*
A riveting historical art mystery for fans of Chasing Vermeer and The Westing Game, set in the Roaring Twenties!

It's 1929, and twelve-year-old Martha has no choice but to work as a maid in the New York City mansion of the wealthy Sewell family. But, despite the Gatsby-like parties and trimmings of success, she suspects something might be deeply wrong in the household—specifically with Rose Sewell, the formerly vivacious lady of the house who now refuses to leave her room. The other servants say Rose is crazy, but scrappy, strong-willed Martha thinks there's more to the story—and that the paintings in the Sewell's gallery contain a hidden message detailing the truth. But in a house filled with secrets, nothing is quite what it seems, and no one is who they say. Can Martha follow the clues, decipher the code, and solve the mystery of what's really going on with Rose Sewell?

Inspired by true events described in a fascinating author's note, The Gallery is a 1920s caper told with humor and spunk that readers today will love.
How to Disappear, by Ann Redisch Stampler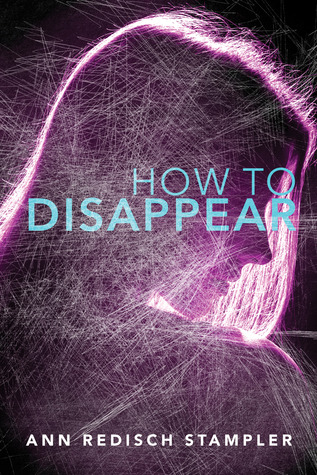 This electric cross-country thriller follows the game of cat and mouse between a girl on the run from a murder she witnessed—or committed?—and the boy who's sent to kill her.

Nicolette Holland is the girl everyone likes. Up for adventure. Loyal to a fault. And she's pretty sure she can get away with anything…until a young woman is brutally murdered in the woods near Nicolette's house. Which is why she has to disappear.

Jack Manx has always been the stand-up guy with the killer last name. But straight A's and athletic trophies can't make people forget that his father was a hit man and his brother is doing time for armed assault. Just when Jack is about to graduate from his Las Vegas high school and head east for college, his brother pulls him into the family business with inescapable instructions: find this ruthless Nicolette Holland and get rid of her. Or else Jack and everyone he loves will pay the price.

As Nicolette and Jack race to outsmart each other, tensions—and attractions—run high. Told in alternating voices, this tightly plotted mystery and tense love story challenges our assumptions about right and wrong, guilt and innocence, truth and lies.
The Invisible Library (The Invisible Library #1), by Genevieve Cogman
Collecting books can be a dangerous prospect in this fun, time-traveling, fantasy adventure from a spectacular debut author.

One thing any Librarian will tell you: the truth is much stranger than fiction…

Irene is a professional spy for the mysterious Library, a shadowy organization that collects important works of fiction from all of the different realities. Most recently, she and her enigmatic assistant Kai have been sent to an alternative London. Their mission: Retrieve a particularly dangerous book. The problem: By the time they arrive, it's already been stolen.

London's underground factions are prepared to fight to the death to find the tome before Irene and Kai do, a problem compounded by the fact that this world is chaos-infested—the laws of nature bent to allow supernatural creatures and unpredictable magic to run rampant. To make matters worse, Kai is hiding something—secrets that could be just as volatile as the chaos-filled world itself.

Now Irene is caught in a puzzling web of deadly danger, conflicting clues, and sinister secret societies. And failure is not an option—because it isn't just Irene's reputation at stake, it's the nature of reality itself…
DAY 15
Princess of the Damned (Skeleton Key), by Wendy Knight
Landon has never seen his own reflection. He saw hers instead. He grew up watching this girl in the mirror grow with him. Grew up memorizing every feature, every movement, every horror she endured. He can see into her palace, into the darkness she's trapped in.

When he was little, he told his parents about her. They thought she was an imaginary friend, and they humored him.

But she didn't go away.

And when Landon was seventeen, he fell in love with her.

She is a captive of the Queen of the Damned.

Now he'll risk everything to try to save her—his life, his home, his entire world.

Bloody Mary

The queen in the mirror.

Bloody Mary

Waiting to steal your soul.

Bloody Mary…
You can see the book blitz for this one here 🙂
DAY 20
If You're Gone, by Brittany Goodwin
Lillian White was planning for the perfect summer- spending every waking minute at the lake with her heartthrob boyfriend, Brad Lee. But her world is shattered when Brad mysteriously disappears the night of his graduation ceremony- the same night he tells her he loves her for the first time. After law enforcement dismisses the case, classifying Brad as voluntarily missing, Lillian becomes desperate to prove that he couldn't have just walked away. Not from his family. Not from his friends. Not from her.

Heartbroken but determined to find answers, Lillian begins to uncover secrets from Brad's past that force her to question everything she thought she knew about him and their relationship. Will the truth lead her to him? Or are Brad's lies just the beginning of the mystery?
Also already have my copy ❤
 DAY 21
Never Ever, by Sara Saedi
Wylie Dalton didn't believe in fairy tales or love at first sight.

Then she met a real-life Peter Pan.

When Wylie encounters Phinn—confident, mature, and devastatingly handsome—at a party the night before her brother goes to juvie, she can't believe how fast she falls for him. And that's before he shows her how to fly.

Soon Wylie and her brothers find themselves whisked away to a mysterious tropical island off the coast of New York City where nobody ages beyond seventeen and life is a constant party. Wylie's in heaven: now her brother won't go to jail and she can escape her over-scheduled life with all its woes and responsibilities—permanently.

But the deeper Wylie falls for Phinn, the more she begins to discover has been kept from her and her brothers. Somebody on the island has been lying to her, but the truth can't stay hidden forever.
DAY 25
Lavender in Bloom, by Lily Velez*
It's the year 1802 in Avignon, France…

Noah Capet has spent most of his young life living simple and unvaried days in the hushed countryside of southern France. Quiet, reserved, and diffident, his preference for existing is to do so in solitude, keeping to himself both in town and on his family's farm—a predilection that's altogether disrupted when a newcomer to town by the name of Jeremie Perreault begins an unremitting quest to befriend him.

Jeremie is everything Noah is not. Charismatic and gregarious, he leaves a trail of charmed admirers in his wake wherever he goes. Expressive and idealistic, he talks without end about his deep love for old books and his spirited dream to one day travel the world on a literary pilgrimage.

Over the course of a single summer, the two form an unlikely friendship, but just as quickly as it develops, it soon entirely dissolves as they're forced to face the truth of what has unexpectedly emerged between them.

Lavender in Bloom is a tender and tragic coming-of-age story about first love and self-discovery, and a poignant reminder that time is fleeting and always takes with it the choices we're too afraid to make.
I'm feeling that this book is a sort-of gay romance, but I'm not sure… Can someone enlighten me? Hahaha!
DAY 28
Her Highland Rogue (Wild Highland Guardian #1), by Violetta Rand
Errol MacRae's days of gallivanting across the Highlands are nearing an end. His father's health has taken a turn for the worse, and rumors are swirling that the crown intends to transfer ancient lands into the hands of the MacKenzies, the clan the MacRaes are sworn to defend. Errol expects to lead his men into battle soon. So he isn't pleased when his father instead sends him to retrieve a beautiful flame-haired lass who has fled into the mountains.

Orphaned as a young girl, Aileana vividly remembers how the MacRaes rescued her and welcomed her into their clan. For ten years, she has served them loyally—until the night she's nearly despoiled by one of the laird's captains. Aileana risks her life and her reputation to seek refuge in the snowcapped peaks of the Five Sisters, the one place that has always felt like home. But after the strong-armed, strong-willed Errol tracks her down in a blizzard, she finds herself tempted to risk something even more dangerous: her heart.
Once a Soldier (Rogues Redeemed #1), by Mary Jo Putney
As heir to a title and great wealth, Will Masterson should have stayed home and tended his responsibilities. Instead he went to war. Now, after perilous years fighting the French, he intends his current mission to be his last. But all his plans are forgotten when he arrives in the small mountain stronghold of San Gabriel and meets her.

Knowing herself to be too tall, strong, and unconventional to appeal to a man, Athena Markham has always gloried in her independence. But for the first time in her life, she finds a man who might be her match.

Two of a kind, too brave for their own good, Athena and Will vow to do whatever it takes to vanquish San Gabriel's enemies. For neither will back down from death, and only together can they find happiness and a love deeper than any they'd dared imagine…
DAY 29
Spell Weaver, by Megan Derr
Myka's dream was to someday own his shop, making and spelling suits that were prized throughout the world. Instead, he rejected an apprenticeship with a master who proved to be reprehensible—and touchable—and lost everything. Now, he works in a derelict shop in the wrong part of town, and it's only a matter of time before he's caught spelling without a license or thrown out by his odious landlord.

The only bright part of his days are the occasional visits from his best client, Johan, a man who works in the palace and always brings the finest suits to have spelled. When he accidentally leaves behind an invitation to the royal ball, Myka takes it, determined to have one evening where he can enjoy himself—and perhaps even spend time with Johan as something other than a spell weaver.
I'm really glad that I finally have a job again, because once again I have a significant list of new books to look forward to buying and reading ❤
Are you (or were you, haha!) expecting any particular books this month? 😀