Hi, there! Sorry for the late post, but life has been impossible, ugh! Here we have my monthly wish list with all the hottest releases on my humble opinion, haha! Books marked with a star are the ones I'm dying to buy!
DAY 1
Beneath the Surface, by M.A. Church
A whole different world exists beneath the surface.
The last thing Nisha expects while patrolling his territory is to find his mate, but his instincts tell him the handsome human diving into the surf is the one meant for him. Two bites and Kannon will be joined to him forever. But when Kannon's father disrupts the mating process, Nisha releases his claim, hoping beyond hope his mate will one day return.
While free diving with his father, Kannon is bitten by a seductive merman. Although he swore to never go near the ocean again, the pull to return to the water and his mystery man remains strong. Finally, after fifteen years away, an impromptu wedding brings Kannon back to the Seychelles, and his destiny.
Kannon only plans to stay on the island for a week, but this time Nisha won't let his mate go without a fight. Merfolk and human culture collide as the embers of Nisha and Kannon's mate bond ignite, and Nisha must complete the mating before it's too late.
You can expect a review for this baby ❤
Captive Creature, by Angelique Voisen
I thought I had nothing left to lose.
Betrayed and abandoned by those I love, and captured by the enemy, I learned death is a privilege, not a right. Nursing my vengeance and honing my hate is all I can do. Then he appears, turning my black and white world upside down.
Scar Greyback is Alpha to the largest werewolf clan in the region. Scar's dominance frightens me, excites me. One touch and I know I'm his. His to possess and control, maybe even to love, but I can't yield. I've been bred and trained all my life as a soldier to hunt his kind. Accepting his mating call will doom us both, but once I start on this road to hell, I can't stop.
Prescient, from Derek Murphy
Talked more about it here 🙂 And you also can expect a review for this baby!
DAY 4
The Copper, from Bonnie Dee
REVIEW HERE! ❤
DAY 5
The 13th Hex, from Jordan L. Hawk (Hexworld #0.5)*
Already talked about it here 🙂
Edge, a YA/NA Paranormal Collection
Talked more about it here 😀
Fear My Mortality, by Everly Frost (Mortal Eternity #1)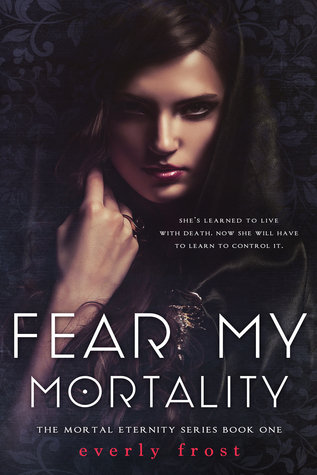 In a world where people are invulnerable to illness and death, with lives spanning hundreds of years, a sixteen-year-old becomes witness to the impossible – her brother's failure to regenerate after death after which she suspects that she too may be mortal.
Forest of Ruin, by Kelley Armstrong (Age of Legends #3)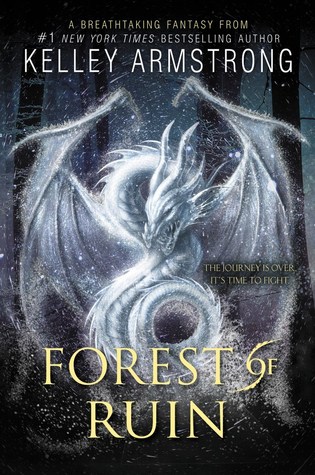 The empire rests on the edge of a knife, and sisters Ashyn and Moria are the handle and the blade. Desperate to outmaneuver the evil Alvar Kitsune, whose hold on the people grows stronger every day, Emperor Tatsu begs Moria to put aside past grievances and ally with Gavril—at least long enough to make an attempt on Alvar's life. Meanwhile, reunited with her long-lost grandfather, Ashyn discovers that she is the key to a ritual that could reawaken an ancient dragon and turn the tide of the coming battle in their favor.
But with lies and betrayal lurking around every corner, Ashyn and Moria will have to decide once and for all where their allegiances are. And it may not be where their hearts would lead them….
In this breathtaking final book in her epic trilogy the Age of Legends, #1 New York Times bestselling author Kelley Armstrong blends fantasy, action, and romance to give readers the unforgettable ending they've been waiting for.
The Glittering Court, by Richelle Mead (The Glittering Court #1)*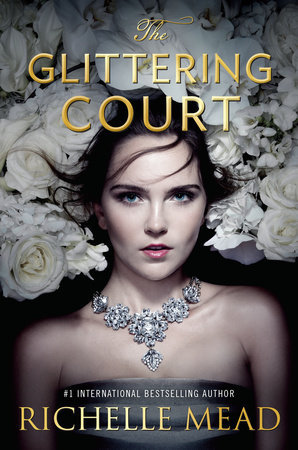 For a select group of girls, the Glittering Court offers a shot at a life they've only ever dreamed of, one of luxury, glamour, and leisure. To high-born Adelaide, whose wealthy family is forcing her into a loveless marriage, the Glittering Court represents something else: the chance to chart her own destiny, and adventure in an unspoiled, prosperous new land across the sea.
After a chance meeting with the dazzling Cedric Thorn, Adelaide poses as a servant to join the crop of impoverished girls he promises to transform into proper ladies. But her familiarity with upper class life comes with a price: she must hide her identity from her new friends, mysterious refugee Mira and fiery former laundress Tamsin, and most importantly, from Cedric himself—even though she's falling in love with him.
Everything begins to crumble when Cedric discovers Adelaide's ruse, and she catches the eye of a powerful young governor, who wants her for a wife. She didn't leave the gilded cage of her old life behind just to become someone else's property. But nothing is as daunting—or as wonderful—as the potent, forbidden attraction simmering between Adelaide and Cedric. One that, if acted on, would make them both outcasts in a wild, dangerous, uncharted world, and possibly lead them to their deaths.
Life in the Lucky Zone, by Patricia B. Tighe
Talked more about it here 😀
Love Me Never, by Sara Wolf (Lovely Vicious Series #1)
Talked about it here and you can expect a review for it too!
Nightstruck, by Jenna Black
The night is the enemy, and the city of Philadelphia is its deadliest weapon.
Becket is an ordinary teenage girl, wrestling with the upheaval of her parents' divorce. Her biggest problems to date have been choosing which colleges to apply to, living up to her parents' ambitious expectations of her, and fighting her secret crush on her best friend's boyfriend. That all changes the night she tries to save an innocent life and everything goes horribly wrong.
Becket has been tricked into opening a door between worlds. As dark magic trickles into Philadelphia, strange creatures roam the streets and inanimate objects come to life, all of them bloodthirsty and terrifying. The city returns to normal when the sun rises each morning. The moment the sun sets, most citizens shut themselves in their houses and stay there no matter what they hear.
The magic is openly hostile to most mortals, but there are some it seems to covet, trying to lure them out into the night. While Becket struggles to protect her friends and family from predatory creatures of the night, she is constantly tempted to shrug off her responsibilities and join them.
Once Upon a Dream, by Liz Braswell (Twisted Tales #2)*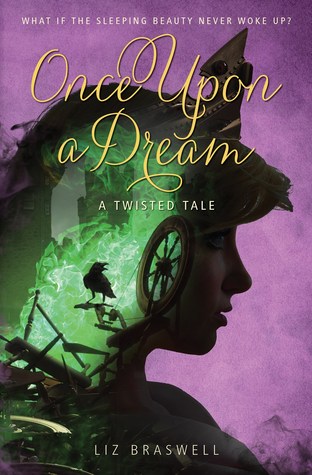 What if the sleeping beauty never woke up? Once Upon a Dream marks the second book in a new YA line that reimagines classic Disney stories in surprising new ways.
It should be simple–a dragon defeated, a slumbering maiden, a prince poised to wake her. But when said prince falls asleep as soon as his lips meet the princess's, it is clear that this fairy tale is far from over.
With a desperate fairy's last curse infiltrating her mind, Princess Aurora will have to navigate a dangerous and magical landscape deep in the depths of her dreams. Soon she stumbles upon Phillip, a charming prince eager to join her quest. But with Maleficent's agents following her every move, Aurora struggles to discover who her true allies are, and moreover, who she truly is. Time is running out. Will the sleeping beauty be able to wake herself up?
The Requiem Red, by Brynn Chapman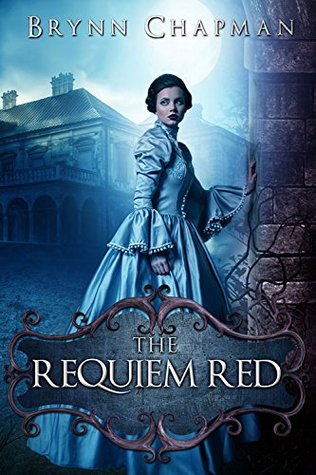 Life for patient 29 is full of medicated day dreams of a life outside the walls of Soothing Hills Asylum. But fantasies are not all that consume her. A monster roams the halls of the sanitarium she reluctantly calls home and three girls have been found dead. The dead girls share one common thread . . . each was 29's cell mate. As the investigation gets under way, she retreats into her mind, listening to the voices that call to her. She is endowed with the cursed gift of perception. Through it, she hears messages carried upon the notes of music, discerns words hidden among the strokes of paintings, and minds pleadings for help from the corn field outside. Could the key to the murders lie within 29's broken mind? Mason, an orderly, does not see 29 as a lunatic and as his belief in her grows so does her self-confidence. The possibility of one day leaving the asylum seems less and less like a fantasy. But the monster has other plans for her. Leaving will not be so easy, at least not while she is alive.
You can expect my review for this one tomorrow ❤ Thanks again to the publisher for the arc copy!
Want Ad Wedding, by Cheryl St.John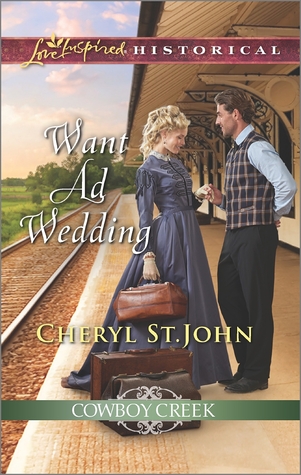 Second Chance Bride
When Daniel Gardner convinced the residents of his Kansas boomtown to advertise for mail-order brides, he never expected the woman he once loved to respond. But Leah Swann steps off the bride train…pregnant and widowed and in need of a husband. Drawn to protect his fragile childhood friend, Daniel proposes a marriage of convenience.
Seeing her onetime best friend waiting to meet the bride train is a wonderful shock for Leah. After her first rocky marriage, a practical partnership with Daniel sounds perfect—as long as her heart doesn't get involved. But when she starts to fall for her husband, will her plans of a fresh start be ruined…or is a real marriage to Daniel exactly what she needs?
Cowboy Creek: Bringing mail-order brides, and new beginnings, to a Kansas boomtown.
The Wedding Date, by Kelly Eadon
A little fake relationship never hurt anyone. . .
Kate Massie has big dreams-they just haven't worked out. Yet. In the meantime, she spends her days clerking for a judge and her nights fantasizing about her tall, dark, and sexy gym crush. So when she runs into him one night, she's shocked to realize he was her shy, nerdy junior-prom date. But that isn't where the surprises end . . .
James Abell needs a date to his sister's wedding. So when Kate agrees, he's relieved . . . until one little lie turns their wedding date into a full-blown fake relationship. Only it doesn't feel fake-not the toe-curling kisses and definitely not the electricity. Neither of them is looking for something real . . . but they just might fall for their own little white lie.
You can also expect a review for this one ❤
DAY 11
A Murder in Time, by Julie McElwain
Beautiful and brilliant, Kendra Donovan is a rising star at the FBI. Yet her path to professional success hits a speed bump during a disastrous raid where half her team is murdered, a mole in the FBI is uncovered and she herself is severely wounded. As soon as she recovers, she goes rogue and travels to England to assassinate the man responsible for the deaths of her teammates.
While fleeing from an unexpected assassin herself, Kendra escapes into a stairwell that promises sanctuary but when she stumbles out again, she is in the same place – Aldrich Castle – but in a different time: 1815, to be exact.
Mistaken for a lady's maid hired to help with weekend guests, Kendra is forced to quickly adapt to the time period until she can figure out how she got there; and, more importantly, how to get back home. However, after the body of a young girl is found on the extensive grounds of the county estate, she starts to feel there's some purpose to her bizarre circumstances. Stripped of her twenty-first century tools, Kendra must use her wits alone in order to unmask a cunning madman.
A Shard of Ice, by Alivia Anders (The Black Symphony Saga #1)*
THEIR SOULS, REAWAKENED.
When 13-year-old Lilix Morgan is found alive and floating on a bed of ice at sea, everyone counts it a miracle. Kidnapped nearly four weeks earlier, she remembers nothing of her mysterious abduction. When she tries to remember what happened, she hears only a melody – a faint and delicate set of notes, strung together in a tune she doesn't understand.
THEIR POWER, UNMATCHED.
A year later and desperate to put the lingering nightmares of her past behind her, Lilix crosses the country to enroll at Baelmorte Academy, aiming to become the violinist she once dreamt of. Things seem to be finally going well, and Lilix settles into a routine of sheet music and inspiration among new friends.
Then the dreams start.
The melody and night terrors she thought she'd left behind return with a vengeance, threatening to ruin her fragile version of normalcy. Then an unlikely ally tells her that she isn't alone. That there are others just like her, fighting to hide their own shocking truths from coming to light. That they know who she is, and what she's been through. Now, accompanied by four other girls, Lilix discovers her nightmares are larger than a single trauma; they're a window to a hidden part of her soul, a place of immense power with a destiny that cannot be ignored.
THEIR BATTLE IS ONLY BEGINNING.
With this knowledge comes a new and frightening reality. For Lilix has been reawakened to stop an age-old enemy, one thought to have been destroyed centuries ago. Trapped by her destiny, Lilix is torn between what feels right and what she remembers. Her memories tell her of a star-crossed love waiting to be reunited, of friendships and trust broken in the past. But can she save that love when reality brings her an enemy, and an evil that will be the undoing of them all if they don't destroy it?
DAY 12
Broken Down, by Amanda K. Byrne (Hidden Scars #2)
The one thing he could do for her was let her go. Until he couldn't.
When Thieves' guitarist Shane Jones lost his close friend to a freak accident, Krista Conner helped him through the worst of his grief. He kept their late-night trysts a secret to protect her from the tabloids, and when she broke up with him, he let her go.
But he never got over her.
Months later, his world is rocked again by the death of his brother mere weeks before the biggest Thieves album yet. Grieving and desperate for peace, he tracks Krista down, craving the salvation he found in her sweet spirit. Only this time, he's determined not to leave.
Krista left Shane because her life was a mess. She's rebuilt it, piece by challenging piece, making some hard decisions along the way. She's settled into a new city and a new life, and for the first time in a long time, she's content and happy. Then Shane turns up, promising to stay, promising to care. Promising everything.
Shane's the one she wants, but the toughest choice she made could drive him away for good.
Review? YES!
Dreamology, by Lucy Keating*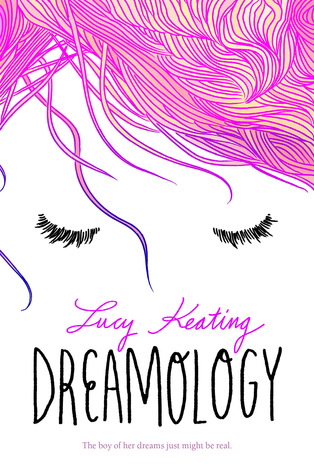 For as long as Alice can remember, she has dreamed of Max. Together they have traveled the world and fallen deliriously, hopelessly in love. Max is the boy of her dreams—and only her dreams. Because he doesn't exist.
But when Alice walks into class on her first day at a new school, there he is. It turns out, though, that Real Max is nothing like Dream Max, and getting to know each other in reality isn't as perfect as Alice always hoped.
When their dreams start to bleed dangerously into their waking hours, the pair realize that they might have to put an end to a lifetime of dreaming about each other. But when you fall in love in your dreams, can reality ever be enough?
Nobody's Lady by Amy McNulty (Never Veil #2)
For the first time in a thousand years, the men in Noll's village possess the freedom to love whom they will. In order to give each man the chance to fully explore his feelings, the lord of the village decrees all marriages null and void until both spouses declare their love for one another and their desire to wed again. What many women think will be a simple matter becomes a source of village-wide tension as most men decide to leave their families and responsibilities behind.
Rejected by the lord and ashamed of her part in the village's history, Noll withdraws from her family and lives life as an independent woodcarver. This changes when her sister accuses her of hiding her former husband Jurij from her—and when Jurij eventually does ask to move in. Determined not to make the same mistakes, Noll decides to support her male friends through their new emotional experiences, but she's soon caught up in a darker plot than she ever dared imagine possible from the men she thought she knew so well. And the lord for whom she still has feelings may be hiding the most frightening truth of them all.
This book and the first volume of the series are also going to win their own reviews!!
Shadow Magic, by Joshua Khan
Thorn, an outlaw's son, wasn't supposed to be a slave. He's been sold to Tyburn, an executioner, and they're headed to Castle Gloom in Gehenna, the land of undead, where Thorn will probably be fed to a vampire.
Lilith Shadow wasn't supposed to be ruler of Gehenna. But following the murder of her family, young Lily became the last surviving member of House Shadow, a long line of dark sorcerers. Her country is surrounded by enemies and the only way she can save it is by embracing her heritage and practicing the magic of the undead. But how can she when, as a girl, magic is forbidden to her?
Just when it looks like Lily will have to leave her home forever, Thorn arrives at Castle Gloom. A sudden death brings them together, inspires them to break the rules, and leads them to soar to new heights in this fantasy with all the sparkle and luster of a starry night sky.
The Way Home, by Linda Oaks (The Chasing Series #3)
https://loveaffairwithfiction.files.wordpress.com/2016/03/thewayhome_ebook_hires.jpg?w=400&h=610
Talked more about it here and you can expect my review of it this month ❤
DAY 13
Enchanted: The Fairy Revels Collection
https://anneliselestrange.files.wordpress.com/2016/03/enchanted1.jpg?w=682&h=1024
Talked more about it here 😀
DAY 19
The Darkest Corners, by Kara Thomas*
The Darkest Corners is a psychological thriller about the lies little girls tell, and the deadly truths those lies become.
There are ghosts around every corner in Fayette, Pennsylvania. Tessa left when she was nine and has been trying ever since not to think about it after what happened there that last summer. Memories of things so dark will burn themselves into your mind if you let them.
Callie never left. She moved to another house, so she doesn't have to walk those same halls, but then Callie always was the stronger one. She can handle staring into the faces of her demons—and if she parties hard enough, maybe one day they'll disappear for good.
Tessa and Callie have never talked about what they saw that night. After the trial, Callie drifted and Tessa moved, and childhood friends just have a way of losing touch.
But ever since she left, Tessa has had questions. Things have never quite added up. And now she has to go back to Fayette—to Wyatt Stokes, sitting on death row; to Lori Cawley, Callie's dead cousin; and to the one other person who may be hiding the truth.
Only the closer Tessa gets to the truth, the closer she gets to a killer—and this time, it won't be so easy to run away.
Eligible: A Modern Retelling of Pride and Prejudice, by Curtis Sittenfeld (The Austen Project #4)
This version of the Bennet family—and Mr. Darcy—is one that you have and haven't met before: Liz is a magazine writer in her late thirties who, like her yoga instructor older sister, Jane, lives in New York City. When their father has a health scare, they return to their childhood home in Cincinnati to help—and discover that the sprawling Tudor they grew up in is crumbling and the family is in disarray.
Youngest sisters Kitty and Lydia are too busy with their CrossFit workouts and Paleo diets to get jobs. Mary, the middle sister, is earning her third online master's degree and barely leaves her room, except for those mysterious Tuesday-night outings she won't discuss. And Mrs. Bennet has one thing on her mind: how to marry off her daughters, especially as Jane's fortieth birthday fast approaches.
Enter Chip Bingley, a handsome new-in-town doctor who recently appeared on the juggernaut reality TV dating show Eligible. At a Fourth of July barbecue, Chip takes an immediate interest in Jane, but Chip's friend neurosurgeon Fitzwilliam Darcy reveals himself to Liz to be much less charming…
And yet, first impressions can be deceiving.
Wonderfully tender and hilariously funny, ELIGIBLE both honors and updates Austen's beloved tale. Tackling gender, class, courtship, and family, Sittenfeld reaffirms herself as one of the most dazzling authors writing today.
Emerge, by Tobie Easton (Mer Chronicles #1)
Lia Nautilus may be a Mermaid but she's never lived in the ocean. War has ravaged the seven seas ever since the infamous Little Mermaid unleashed a curse that stripped Mer of their immortality. Lia has grown up in a secret community of land-dwelling Mer hidden among Malibu's seaside mansions. Her biggest problems are surviving P.E. and keeping her feelings for Clay Ericson in check. Sure, he's gorgeous in that cocky, leather jacket sort of way and makes her feel like there's a school of fish swimming in her stomach, but getting involved with a human could put Lia's entire community at risk.
So it's for the best that he's dating that new girl, right? That is, until Lia finds out she isn't the only one at school keeping a potentially deadly secret. And this new girl? Her eyes are dead set on Clay, who doesn't realize the danger he's in. If Lia hopes to save him, she'll have to get closer to Clay. Lia's parents would totally flip if they found out she was falling for a human boy, but the more time she spends with him, the harder it is for her to deny her feelings. After making a horrible mistake, Lia will risk everything to stop Clay from falling in love with the wrong girl.
You can expect my review on the release day, guys! ❤ I was lucky enough to receive and ARC of this beauty!! Thanks so much to the publisher again ❤
Love, Lies and Spies, by Cindy Anstey*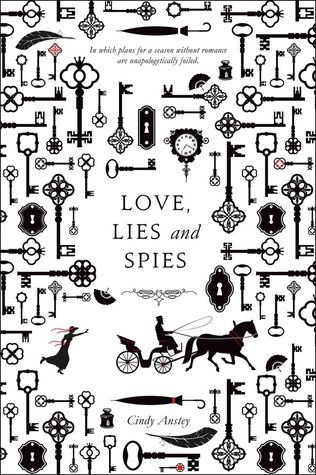 Juliana Telford is not your average nineteenth-century young lady. She's much more interested in researching ladybugs than marriage, fashionable dresses, or dances. So when her father sends her to London for a season, she's determined not to form any attachments. Instead, she plans to secretly publish their research.
Spencer Northam is not the average young gentleman of leisure he appears. He is actually a spy for the War Office, and is more focused on acing his first mission than meeting eligible ladies. Fortunately, Juliana feels the same, and they agree to pretend to fall for each other. Spencer can finally focus, until he is tasked with observing Juliana's traveling companions . . . and Juliana herself.
I have to say that I was devastated that I wasn't selected to participate on the blog tour for this book, but oh well. We can't have it all.
No Love Allowed, by Kate Evangelista*
It's all fun and parties until someone falls in love in this modern fairy tale from author Kate Evangelista.
Caleb desperately needs a fake girlfriend. Either he attends a series of parties for his father's law firm with a pretty girl on his arm, or he gets shipped off to Yale to start a future he's not ready for and isn't sure he wants. And sadly, the last unattached girl in his social circle has just made the grievous mistake of falling in love with him. Fortunately, Didi, recently fired waitress and aspiring painter, is open to new experiences. As the summer ticks by in a whirl of lavish parties, there's only one rule: They must not fall in love!
Another book tour that I wasn't included in… My heart is broken, haha!
'Til Death Do Us Part, by Amanda Quick
Calista Langley operates an exclusive "introduction" agency in Victorian London, catering to respectable ladies and gentlemen who find themselves alone in the world. But now, a dangerously obsessed individual has begun sending her trinkets and gifts suitable only for those in deepest mourning—a black mirror, a funeral wreath, a ring set with black jet stone. Each is engraved with her initials.
Desperate for help and fearing that the police will be of no assistance, Calista turns to Trent Hastings, a reclusive author of popular crime novels. Believing that Calista may be taking advantage of his lonely sister, who has become one of her clients, Trent doesn't trust her. Scarred by his past, he's learned to keep his emotions at bay, even as an instant attraction threatens his resolve.
But as Trent and Calista comb through files of rejected clients in hopes of identifying her tormentor, it becomes clear that the danger may be coming from Calista's own secret past—and that only her death will satisfy the stalker…
DAY 21
Perilous Love, by J.A. Essen
Talked more about it here 🙂
DAY 23
Aria's Dream, by Anna Adams (The Aria Series #2)
Talked more about it here 🙂
DAY 24
Paper Dolls, by Hannah Peach
Talked about it here 🙂
DAY 25
Demigods and Monsters, by Raye Wager (Sphinx #2)
https://anneliselestrange.files.wordpress.com/2016/02/585cc-demigods2band2bmonsters2bcover2b1.png?w=416&h=640
Talked more about it here!
Painting Sky, by Rita Branches
Talked more about it here and you can expect a review for this one too!! ❤
DAY 26
Down With the Shine, by Kate Karyus Quinn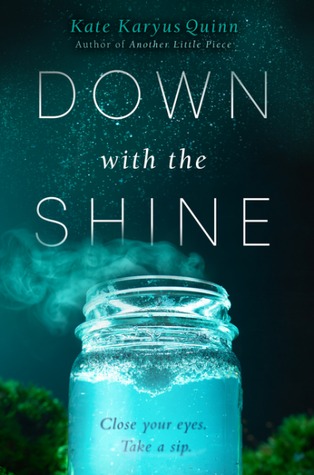 There's a reason they say "be careful what you wish for." Just ask the girl who wished to be thinner and ended up smaller than Thumbelina, or the boy who asked for "balls of steel" and got them-literally. And never wish for your party to go on forever. Not unless you want your guests to be struck down by debilitating pain if they try to leave.
These are things Lennie only learns when it's too late-after she brings some of her uncles' moonshine to a party and toasts to dozens of wishes, including a big wish of her own: to bring back her best friend, Dylan, who was abducted and murdered six months ago.
Lennie didn't mean to cause so much chaos. She always thought her uncles' moonshine toast was just a tradition. And when they talked about carrying on their "important family legacy," she thought they meant good old-fashioned bootlegging.
As it turns out, they meant granting wishes. And Lennie has just granted more in one night than her uncles would grant in a year.
Now she has to find a way to undo the damage. But once granted, a wish can't be unmade…
The Earl Takes All, by Lorraine Heath (The Hellions of Havisham #2)
One summer night, Edward Alcott gives in to temptation and kisses Lady Julia Kenney in a dark garden. However, the passion she stirs within him is best left in the shadows as she weds his twin, the Earl of Greyling. But when tragedy strikes, to honor the vow he makes to his dying brother, Edward must pretend to be Greyling until the countess delivers her babe.
After her husband returns from a two-month sojourn, Julia finds him changed. Bolder, more daring, and more wicked—even if he does limit their encounters to kisses. With each passing day, she falls more deeply in love.
For Edward the embers of desire sparked on that long-ago night are quickly rekindled. He yearns to be her husband in truth. But if she discovers his ruse, she will despise him—and English law prevents him from marrying his brother's widow. Yet he must dare to risk everything and reveal his secrets if he is to truly take all.
How to Manage a Marquess, by Sally MacKenzie (Spinster House #2)
Talked more about it here 😀
The Raven King, by Maggie Stiefvater (The Raven Cycle #4)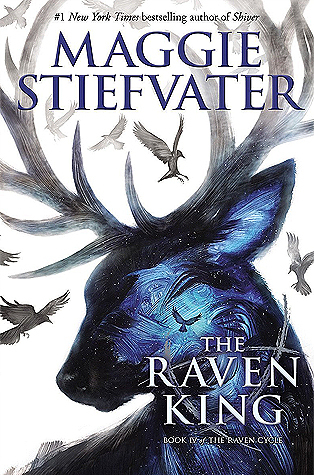 The fourth and final installment in the spellbinding series from the irrepressible, #1 New York Times bestselling author Maggie Stiefvater.
All her life, Blue has been warned that she will cause her true love's death. She doesn't believe in true love and never thought this would be a problem, but as her life becomes caught up in the strange and sinister world of the Raven Boys, she's not so sure anymore.
Water's Wrath, by Elise Kova (Air Awakens #4)
https://anneliselestrange.files.wordpress.com/2016/02/8ecd4-waters-wrath-cover-only-635×1024.jpg?w=396&h=640
Talked more about it here 🙂
~*~
That's such a big list, right? Haha! April will be another bankrupting month for us readers, OMG! Are you pinning for any special releases this month?
Thanks for reading!