Hello, you! This is that time of the month when I do my humble selection of what's going to be hot on the bookstores 😀 For March, we have 21 books that I really need to keep breathing. Don't worry, dad, I know it's not gonna happen, but I have to make my show, haha!
This post is huge, so let's just get started!
Day 1
I Kissed a Rogue (Covent Garden Cubs #3), by Shana Galen
Once she spurned the man…

When the Duke of Lennox hires Sir Brook Derring, England's best investigator, to find his daughter, Brook intends only to rescue the lady and return to his solitary life. He deals with London's roughest criminals every day of the week; surely he should be able to endure seeing his first love again—the perfect girl who broke his heart…

Now her life depends on him

Lady Lillian-Anne Lennox has always done her best to live up to her father's standards of perfection—at the cost of following her heart. When she's kidnapped and her perfect life is shattered, Lila has another chance. Together, Lila and Brook navigate not only the dark and deadly side of London, but the chasm of pride and prejudice that divides them.
Yes, we will continue to have historical romances on my monthly lists ❤
The Madwoman Upstairs, by Catherine Lowell*
Samantha Whipple is used to stirring up speculation wherever she goes. As the last remaining descendant of the Brontë family, she's rumored to have inherited a vital, mysterious portion of the Brontë's literary estate; diaries, paintings, letters, and early novel drafts; a hidden fortune that's never been shown outside of the family.

But Samantha has never seen this rumored estate, and as far as she knows, it doesn't exist. She has no interest in acknowledging what the rest of the world has come to find so irresistible; namely, the sudden and untimely death of her eccentric father, or the cryptic estate he has bequeathed to her.

But everything changes when Samantha enrolls at Oxford University and bits and pieces of her past start mysteriously arriving at her doorstep, beginning with an old novel annotated in her father's handwriting. As more and more bizarre clues arrive, Samantha soon realizes that her father has left her an elaborate scavenger hunt using the world's greatest literature. With the aid of a handsome and elusive Oxford professor, Samantha must plunge into a vast literary mystery and an untold family legacy, one that can only be solved by decoding the clues hidden within the Brontë's own writing.
I love a good romance involving a smart teacher lol
Seven Black Diamonds, by Melissa Marr*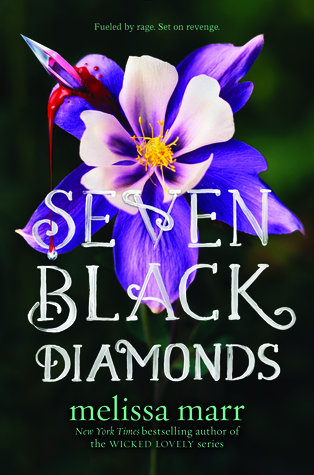 Lilywhite Abernathy is a criminal—she's half human, half fae, and since the time before she was born, a war has been raging between humans and faeries. The Queen of Blood and Rage, ruler of the fae courts, wants to avenge the tragic death of her heir due to the actions of reckless humans.

Lily's father has always shielded her, but when she's sent to the prestigious St. Columba's school, she's delivered straight into the arms of a fae sleeper cell—the Black Diamonds. The Diamonds are planted in the human world as the sons and daughters of the most influential families and tasked with destroying it from within. Against her will, Lilywhite's been chosen to join them…and even the romantic attention of the fae rock singer Creed Morrison isn't enough to keep Lily from wanting to run back to the familiar world she knows.
I'm pinning to read any book from Melissa Marr since Wicked Lovely and Carnival of Souls, so this one had to enter my monthly list as well /o/
Day 3
Kindred Spirits, by Rainbow Rowell*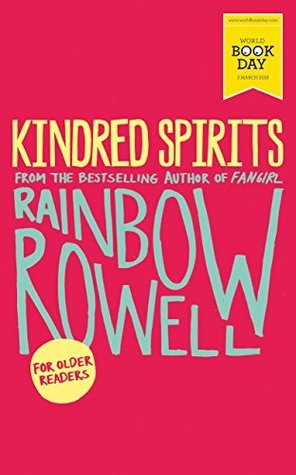 If you broke Elena's heart, Star Wars would spill out. So when she decides to queue outside her local cinema to see the new movie, she's expecting a celebration with crowds of people who love Han, Luke and Leia just as much as she does. What she's not expecting is to be last in a line of only three people; to have to pee into a collectible Star Wars soda cup behind a dumpster or to meet that unlikely someone who just might truly understand the way she feels. Kindred Spirits is an engaging short story (…) specially produced for World Book Day.
I'm bewitched since Carry On, so I'm assuming everything Rainbow writes is worth-reading, sorry!
Day 7
Mike and the Spring Awakening, by Bonnie Dee & Summer Devon (Victorian Holiday Hearts #3)*
Young Micah "Mike" Cordett's privileged life explodes when he is caught naked with a schoolmate. Running away from disgrace, he blunders into a trap in a seamy part of London and endures months of abuse before escaping. But with the help of the Andrews family, he's begun to climb out of his fear. Yet, when a reminder of his happier past erupts into his life in the form of Lucas Spring, Mike's not certain he's ready to face the remnants of the charmed life he'd once enjoyed. He's certainly not ready for love.

Lucas Spring pined for Mike from afar when they were in school. This shadow of the confident boy he once knew shocks him, and Lucas vows to do anything he can to help restore the person he'd so admired. With patience and determination, he hopes to ease Mike's fears and perhaps even win his love.

But when a violent figure from Mike's past looms into his present, will the tender shoots of a new beginning be crushed?
I'm in love with this thematic series that those amazing authors are releasing!! ❤
Day 8
Convincing the Secretary, by Ava March ❤
Business and pleasure is a mix no gentleman should consider.

Lord Grayson Holloway goes after what he wants—be it in the law office on his clients' behalf or in the bedchamber. His new position as partner puts him closer to achieving his goal of becoming the most successful solicitor in London. There's just one problem—his new secretary. Broad of shoulder yet mild of manner, Edward tempts Gray like no other. Yet the young man barely notices him.

Edward Fenton tries to be a good secretary, but being in Lord Grayson's hard, commanding presence rouses Edward's most forbidden desires. Wicked, naughty desires no gentleman should consider giving in to, let alone with his new employer.

Gray is more than willing to mix business with pleasure. But convincing Edward to take a chance on a future with him? That might be the most challenging case Gray has ever taken on.
REVIEW HERE MWAHAHA MWAHAHA! I am so trilled to see a new book from Ava to be officially born!!
The Forbidden Orchid, by Sharon Biggs Waller*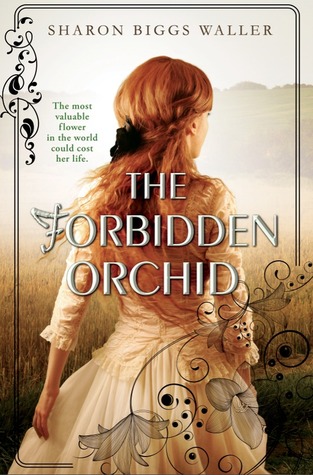 Staid, responsible Elodie Buchanan is the eldest of ten sisters living in a small English market town in 1861. The girls' father is a plant hunter, usually off adventuring through the jungles of China.

Then disaster strikes: Mr. Buchanan fails to collect an extremely rare and valuable orchid, meaning that he will be thrown into debtors' prison and the girls will be sent to the orphanage or the poorhouse. Elodie's father has one last chance to return to China, find the orchid, and save the family—and this time, thanks to an unforeseen twist of fate, Elodie is going with him. Elodie has never before left her village, but what starts as fear turns to wonder as she adapts to seafaring life aboard the tea clipper The Osprey, and later to the new sights, dangers, and romance of China.

But even if she can find the orchid, how can she find herself now that staid, responsible Elodie has seen how much the world has to offer?
This one simply sounds awesome lol
Lady Midnight (The Dark Artifices #1), by Cassandra Clare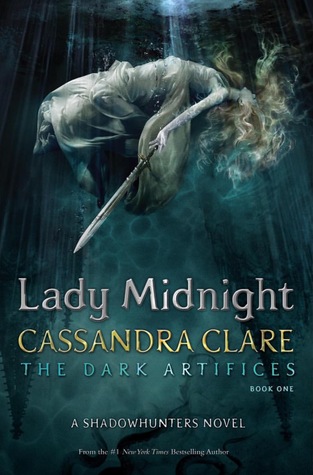 The Shadowhunters of Los Angeles star in the first novel in Cassandra Clare's newest series, The Dark Artifices, a sequel to the internationally bestselling Mortal Instruments series. Lady Midnight is a Shadowhunters novel.
I thought this was a new series from her, like all new, but oh well. Don't get me wrong, it will rock, but I didn't read any of her books so far, haha!
The Return of the Witch (The Witch's Daughter #2), by Paula Brackston
After five years in the Summerlands, Gideon has gained his freedom. Elizabeth knows he will go straight for Tegan, and that she must protect the girl she had come to regard as her own daughter. In the time since she the dramatic night in Batchcombe woods, Tegan has travelled the world learning from all manner of witches, and she is no longer the awkward teenager and novice spellcaster she once was. However, her skills are no match for Gideon's dark, vengeful power, and he succeeds in capturing her. Will Elizabeth be able to find her? Will they be able to defeat their nemisis once and for all?

In a breathless journey that takes them through history, witch pursues warlock. Three people steeped in magic weave a new story, but not all will survive until the end.
I haven't read the first book in the series, but judging by this one, I'll need to, haha!
Sisi: Empress on Her Own, by Allison Pataki*
Married to Emperor Franz Joseph, Elisabeth—fondly known as Sisi—captures the hearts of her people as their "fairy queen," but beneath that dazzling persona lives a far more complex figure. In mid-nineteenth-century Vienna, the halls of the Hofburg Palace buzz not only with imperial waltzes and champagne but with temptations, rivals, and cutthroat intrigue. Feeling stifled by strict protocols and a turbulent marriage, Sisi grows restless. A free-spirited wanderer, she finds solace at her estate outside Budapest. There she rides her beloved horses and enjoys visits from the Hungarian statesman Count Andrássy, the man with whom she's unwittingly fallen in love. But tragic news brings Sisi out of her fragile seclusion, forcing her to return to her capital and a world of gossip, envy, and sorrow where a dangerous fate lurks in the shadows.

Through love affairs and loss, dedication and defiance, Sisi struggles against conflicting desires: to keep her family together, or to flee amid the collapse of her suffocating marriage and the gathering tumult of the First World War. In an age of crumbling monarchies, Sisi fights to assert her right to the throne beside her husband, to win the love of her people and the world, and to save an empire. But in the end, can she save herself?
First, I'd like to say that I love historical books. Second, that Sissi is one of my favorite personalities of all time – I was a sucker for the French cartoon produced on 1998, I watched the movies with Romy Schneider countless times and I still cry on the last one in several scenes, and my Barbie dolls were named Elisabeth for long years on my childhood. All considered, it is only natural for me to pin for this book ❤
A Tyranny of Petticoats: 15 Stories of Belles, Bank Robbers & Other Badass Girls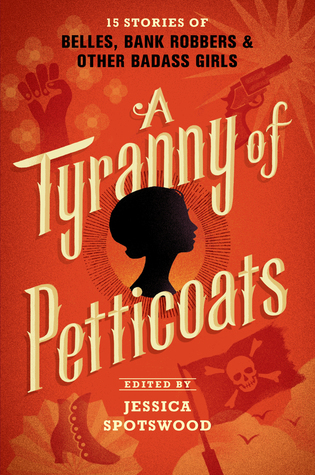 From an impressive sisterhood of YA writers comes an edge-of-your-seat anthology of historical fiction and fantasy featuring a diverse array of daring heroines.

Criss-cross America — on dogsleds and ships, stagecoaches and trains — from pirate ships off the coast of the Carolinas to the peace, love, and protests of 1960s Chicago. Join fifteen of today's most talented writers of young adult literature on a thrill ride through history with American girls charting their own course. They are monsters and mediums, bodyguards and barkeeps, screenwriters and schoolteachers, heiresses and hobos. They're making their own way in often-hostile lands, using every weapon in their arsenals, facing down murderers and marriage proposals. And they all have a story to tell.
I love a good strong female, so here you have it, haha!
Day 15
The Charmed Children of Rookskill Castle, by Janet Fox
"Keep calm and carry on."

That's what Katherine Bateson's father told her, and that's what she's trying to do: when her father goes off to the war, when her mother sends Kat and her brother and sister away from London to escape the incessant bombing, even when the children arrive at Rookskill Castle, an ancient, crumbling manor on the misty Scottish highlands.

But it's hard to keep calm in the strange castle that seems haunted by ghosts or worse. What's making those terrifying screeches and groans at night? Why do the castle's walls seem to have a mind of their own? And why do people seem to mysteriously appear and disappear?

Kat believes she knows the answer: Lady Eleanor, who rules Rookskill Castle, is harboring a Nazi spy. But when her classmates begin to vanish, one by one, Kat must uncover the truth about what the castle actually harbors—and who Lady Eleanor really is—before it's too late.
Ghosts and orphan children? I'm in.
A Drop of Night, by Stefan Bachmann*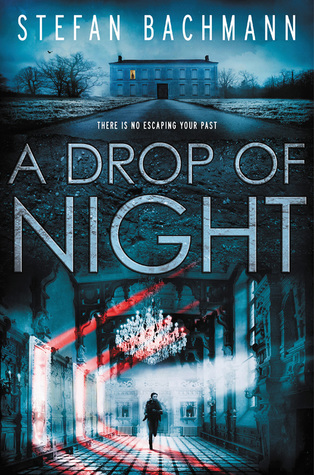 Seventeen-year-old Anouk has finally caught the break she's been looking for—she's been selected out of hundreds of other candidates to fly to France and help with the excavation of a vast, underground palace buried a hundred feet below the suburbs of Paris. Built in the 1780's to hide an aristocratic family and a mad duke during the French Revolution, the palace has lain hidden and forgotten ever since. Anouk, along with several other gifted teenagers, will be the first to set foot in it in over two centuries.

Or so she thought.

But nothing is as it seems, and the teens soon find themselves embroiled in a game far more sinister, and dangerous, than they could possibly have imagined. An evil spanning centuries is waiting for them in the depths. . .
I NEED THIS BOOK NOW!
The First Time She Drowned, by Kerry Kletter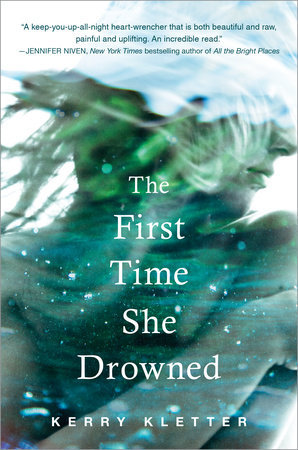 Cassie O'Malley has spent the past two and a half years in a mental institution—dumped there by her mother, against her will. Now, at 18, Cassie emancipates herself, determined to start over. She attends college, forms new friendships, and even attempts to start fresh with her mother. But before long, their unhealthy relationship threatens to pull Cassie under once again. As Cassie struggles to reclaim her life, childhood memories persist and confuse, and Cassie must consider whose version of history is real, and more important, whose life she must save.
I love book with a touch of insanity to the characters ❤
Yellow Brick War (Dorothy Must Die #3), by Danielle Paige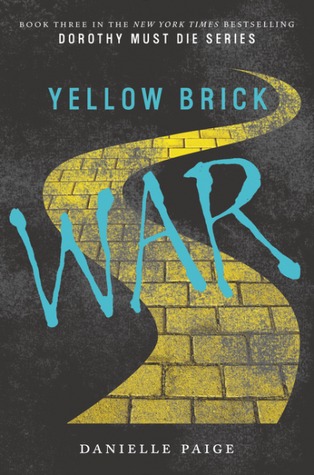 In this dark, action-packed third book in the New York Times bestselling Dorothy Must Die series, Amy Gumm—the new girl from Kansas—must do everything in her power to save Kansas, kill Dorothy, and make Oz a free land once more.

Amy Gumm's mission to take down Dorothy Gale is not going according to plan. Dorothy has found a way to bridge the worlds of Oz and Kansas, and if the power-hungry dictator of Oz has her way, Kansas will be destroyed forever. Now, Amy has to team up with the Revolutionary Order of the Wicked to save her home, restore the balance between the magic and nonmagic worlds, maybe get the guy—and kill that not-so-sweet Kansas farm girl once and for all.

In the third installment of the New York Times bestselling Dorothy Must Die series, Danielle Paige's twisted versions of beloved Oz characters are back, including the biggest, baddest, most famous of all: the Wicked Witch of the West.
I just bought the first book in this series and I can't wait to read it ❤
Day 22
The Hidden Twin, by Adi Rule*
For eighteen years a girl with no name, a Redwing, has been hidden away in a small attic room within a city of hissing pipes and curving temples perched on the side of the great volcano, Mol, while her sister, Jey-identical except for her eyes-has lived her life in public as an only child. Their father had hoped the hidden girl would one day grow up to be a normal human girl and not the wicked creature mythology has promised, so he secretly spared her life as an infant.

But when she switches places with her sister, striking up a flirtation with the son of the Empress while working in the royal gardens and gets attacks by two suspicious priests on her journey home, she is forced to call forth fire to protect herself, unleashing her previously dormant powers and letting her secret out. She soon catches the attention of a cult with a thousand year old grudge as well as a group of underground rebels, both seeking her for their own gain. But when her sister goes missing and the Redwing uncovers a great plot to awaken Mol and bring fiery destruction upon them all, she is forced to embrace her powers.
Just this blurb was enough to take my breath away, can you imagine what the book itself will do?!
Jane Steele, by Lyndsay Faye*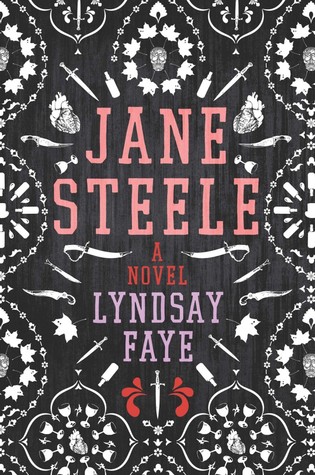 Reader, I murdered him.

Like the heroine of the novel she adores, Jane Steele suffers cruelly at the hands of her aunt and schoolmaster. And like Jane Eyre, they call her wicked – but in her case, she fears the accusation is true. When she flees, she leaves behind the corpses of her tormentors.

A fugitive navigating London's underbelly, Jane rights wrongs on behalf of the have-nots whilst avoiding the noose. Until an advertisement catches her eye. Her aunt has died and the new master at Highgate House, Mr Thornfield, seeks a governess. Anxious to know if she is Highgate's true heir, Jane takes the position and is soon caught up in the household's strange spell. When she falls in love with the mysterious Charles Thornfield, she faces a terrible dilemma: can she possess him – body, soul and secrets – and what if he discovers her murderous past?
I have never read Jane Eyre (yes, I know, I'm so late!), but this retelling sounds promising on its own, haha!
Wink Poppy Midnight, by April Genevieve Tucholke*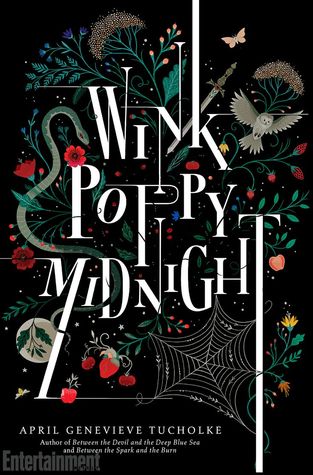 Every story needs a hero.

Every story needs a villain.

Every story needs a secret.

Wink is the odd, mysterious neighbor girl, wild red hair and freckles. Poppy is the blond bully and the beautiful, manipulative high school queen bee. Midnight is the sweet, uncertain boy caught between them. Wink. Poppy. Midnight. Two girls. One boy. Three voices that burst onto the page in short, sharp, bewitching chapters, and spiral swiftly and inexorably toward something terrible or tricky or tremendous.

What really happened?

Someone knows.

Someone is lying.
A beautiful cover + an enchanting synopsis? I'm in!
Day 29
Because of Miss Bridgerton (Rokesbys #1), by Julia Quinn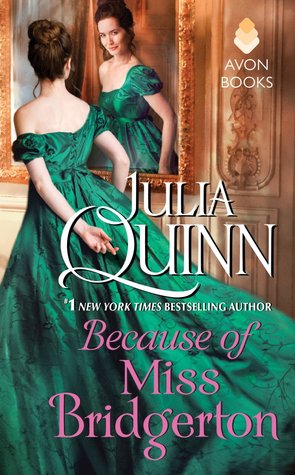 Sometimes you find love in the most unexpected of places…

This is not one of those times.

Everyone expects Billie Bridgerton to marry one of the Rokesby brothers. The two families have been neighbors for centuries, and as a child the tomboyish Billie ran wild with Edward and Andrew. Either one would make a perfect husband… someday.

Sometimes you fall in love with exactly the person you think you should…

Or not.

There is only one Rokesby Billie absolutely cannot tolerate, and that is George. He may be the eldest and heir to the earldom, but he's arrogant, annoying, and she's absolutely certain he detests her. Which is perfectly convenient, as she can't stand the sight of him, either.

But sometimes fate has a wicked sense of humor…

Because when Billie and George are quite literally thrown together, a whole new sort of sparks begins to fly. And when these lifelong adversaries finally kiss, they just might discover that the one person they can't abide is the one person they can't live without…
I've been meaning to read a Julia Quinn's book for a good year now, but I they always seem to be so low on my book shopping lists 😦
The Stopped Heart: A Novel, by Julie Myerson*
Mary Coles and her husband, Graham, have just moved to a cottage on the edge of a small village. The house hasn't been lived in for years, but they are drawn to its original features and surprisingly large garden, which stretches down into a beautiful apple orchard. It's idyllic, remote, picturesque: exactly what they need to put the horror of the past behind them.

One hundred and fifty years earlier, a huge oak tree was felled in front of the cottage during a raging storm. Beneath it lies a young man with a shock of red hair, presumed dead—surely no one could survive such an accident. But the red-haired man is alive, and after a brief convalescence is taken in by the family living in the cottage and put to work in the fields. The children all love him, but the eldest daughter, Eliza, has her reservations. There's something about the red-haired man that sits ill with her. A presence. An evil.

Back in the present, weeks after moving to the cottage and still drowning beneath the weight of insurmountable grief, Mary Coles starts to sense there's something in the house. Children's whispers, footsteps from above, half-caught glimpses of figures in the garden. A young man with a shock of red hair wandering through the orchard.

Has Mary's grief turned to madness? Or have the events that took place so long ago finally come back to haunt her…?
This seems to be a story in the style of Shielded Past and if only one third of my thinking is true, I need this book in my lap now!
The Winner's Kiss (The Winner's Trilogy #3), by Marie Rutkoski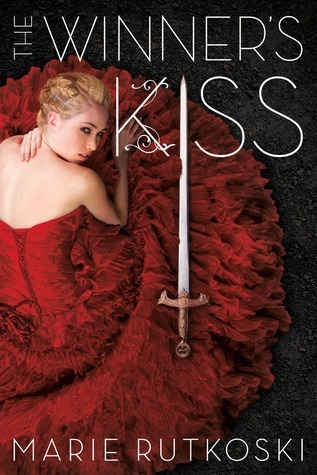 War has begun. Arin is in the thick of it with untrustworthy new allies and the empire as his enemy. Though he has convinced himself that he no longer loves Kestrel, Arin hasn't forgotten her, or how she became exactly the kind of person he has always despised. She cared more for the empire than she did for the lives of innocent people—and certainly more than she did for him.

At least, that's what he thinks.

In the frozen north, Kestrel is a prisoner in a brutal work camp. As she searches desperately for a way to escape, she wishes Arin could know what she sacrificed for him. She wishes she could make the empire pay for what they've done to her.

But no one gets what they want just by wishing.

As the war intensifies, both Kestrel and Arin discover that the world is changing. The East is pitted against the West, and they are caught in between. With so much to lose, can anybody really win?
I'm still deciding if I shall give a try to this series or not. While I don't decide, it will be featured on my list, haha!
That's it, thank you for reading 😀 Which is your most awaited book for March??